Physiological (Normal) Changes
1. Physiological Changes of Primary (Baby) Dentition
By the age of 2.5 years, all the baby teeth should have erupted. It is very common to find spacing present between the baby teeth. As the child goes older, the spacing may begin to appear or increase in the front teeth as a result of growth. Occlusal wear of the teeth may become evident. Sometimes, the front teeth can reach an edge to edge bite as a result of growth of the lower jaw.
2. Physiological Changes of Mixed Dentition
The child enters into the mixed dentition when the first permanent (adult) molars erupts into the mouth at around the age of 6 years old.
As the upper permanent incisors erupt into the mouth, spacing may be present between these teeth. This spacing is termed "ugly duckling stage" or physiological spacing. It is a normal stage of development and is related to the unerupted upper permanent canines. With the eruption of the permanent canines, the spacing will close spontaneously. Consult an orthodontist for a full evaluation if the spacing persists.
Do not be overly alarmed if your child does not exhibit the changes described above as not all the classically described age changes may take place in every child. If in doubt, always seek advice from your orthodontist.
How old should your child see an Orthodontist?
Most children begin their orthodontic treatment around the age of 12-13years when most of their permanent teeth have erupted. In a few instances, treatment is better when started earlier and this type of treatment is called Interceptive orthodontics.
We encourage children to be screened by an orthodontist at the age of 7-8 years old. There are a few types of dental problems that should be corrected earlier to preserve dental health. Some orthodontic treatments achieve a better result when patients are younger and some treatment when corrected early, can avoid more lengthy and complicated correction later on in life.
What should you look out for as a parent?
Apart from ensuring that your child sees his/her dentists regularly, we encourage parents to look out for a few common problems that are best treated earlier on.
If your child presents with any of the malocclusions shown below, early treatment with an Orthodontist may be beneficial.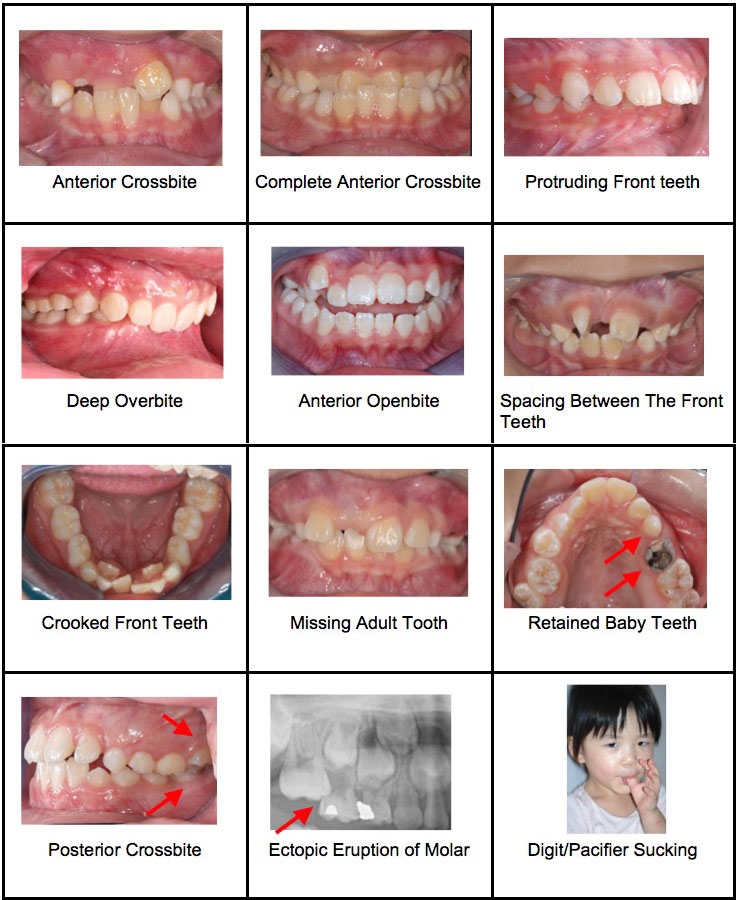 What to expect from your first orthodontic appointment?
The orthodontist will obtain history from you prior to examination of your child's face and teeth. Please be prepared to answer questions e.g. any history of dental trauma, thumbsucking habits etc.
Sometimes, the orthodontists may need to request for x-ray investigation to be able to make a proper diagnosis of the problem. If your child needs treatment, your orthodontist will explain the type of treatment required, duration and costs. You do not need to make a decision immediately and can ask for time to think about your options at home.
If your child does not need treatment at the moment, the orthodontist will advise on when your next follow-up appointment will be.
Even if you are unsure whether your child needs braces treatment, it is better to seek an opinion rather than waiting until it is too late!